You feel that time has come to refurbish your house. You have done a lot of changes by painting a house, replacing old accessories, and throwing old and torn furniture at an affordable price.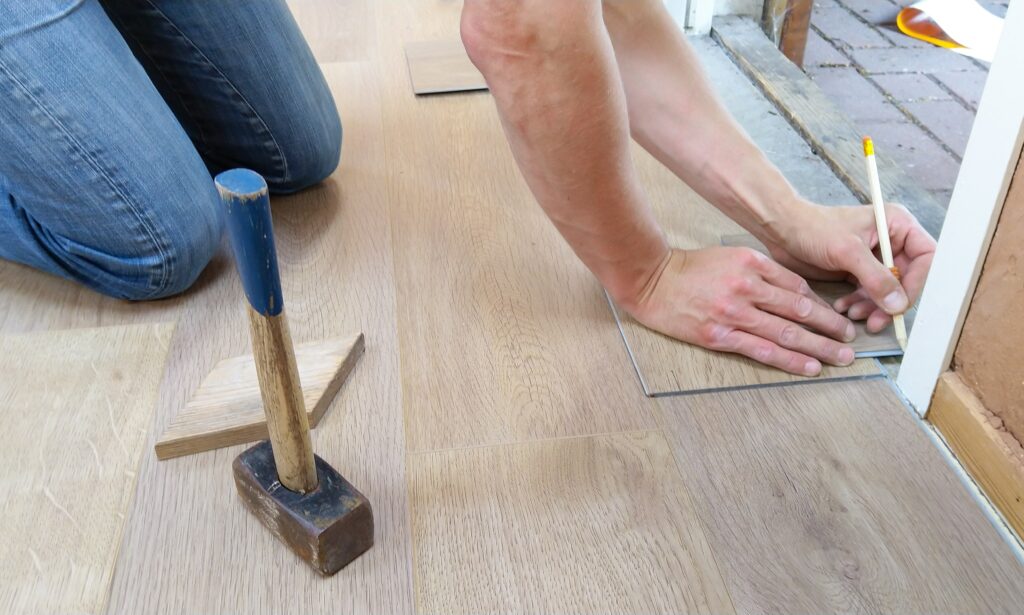 But what to do of that shabby old carpeting or scuffed-up vinyl flooring?
The good news is you have a lot of cheap flowing options available that mimic luxurious flooring. In addition, technological advancement has made it possible to manufacture eye-pleasing and quite durable inexpensive flooring that you can install by yourself by watching tutorials.
You can DIY your kitchen or bathroom flooring and can get durable and easy-to-install flooring options. For example, you love the plush feeling, then carpet tiles or cork tiles that feel soft under feet are best. Ceramics, laminate, and porcelain tiles are affordable options if you want a glazy and cool sensation under your feet.
Let's discuss the 8 most inexpensive flooring options and find out the quality of material, price per square foot, and whether you can install these flooring by yourself or you need to hire a professional.
Vinyl Flooring
Vinyl is made of PVC layers and feels softer as compared to hardwood or tile floors. Vinyl flooring comes in tiles, sheets, and planks. The vinyl floors are durable and waterproof and can last up to 25 years. Waterproof and tough material of the vinyl makes it suitable to install the flooring anywhere like kitchen, bathroom, living room. It requires regular cleaning by mopping and sweeping. It is the cheapest flooring option that lasts for decades.
Sheet Vinyl Flooring
As the name describes, sheet vinyl comes in a large sheet at $1.25 per square foot. You need to unroll the sheet to install it. Then, cut it according to floor size and stick it on the subfloor with the glue. There are beautiful prints available that mimic it to look like stone or wood. The textured vinyl sheet of luxury brands costs you more than $5 per square foot.
Sheets come in 6' and 12' widths that make it heavy. A single person cannot handle it alone. It is better to hire a professional to install vinyl sheet flooring. You may miscalculate the measurement and cut the wrong size.
Plank Vinyl Flooring
For people who love hardwood floor but cannot afford it, this inexpensive flooring option is the right choice that costs $1.39 and increases with the type of planks you buy. Plank vinyl flooring in various types
Engineered vinyl plank (EVP)
Luxury vinyl plank (LVP),
Waterproof vinyl plank (VWP)
Rigid core vinyl plank (SVP) stone composite version
Vinyl planks come in small sizes and make the installation easy to handle. There is no need to nail or glue. Planks come either in peel and stick form or click and lock system. So you can easily install it by yourself and save the installation cost of flooring. Plank vinyl flooring is the best cheap alternative to hardwood flooring. The average lifespan of plank vinyl flooring is 20 years.
Laminate Flooring
Laminate flooring is built with different composites and looks like engineered wood, with a thin finish over coatings of plywood or compressed fiber. The top layer of tile is not made of wood. Instead, the 3d image is printed under a transparent plastic coating. Photographs of wood, stone, tile, etc., are used to make laminate tiles. Laminate flooring is an imitation flooring of luxury flooring.
Laminate flooring comes in click and lock pieces and is easy to install that costing $2.50 per square foot on average. However, the price may vary from manufacturer to manufacturer based on images and material used.